Living The Art Life at Julia's (with Mead Cocktails)
Come and discover Julia's Beer and Wine Bar in Ridgewood, Queens.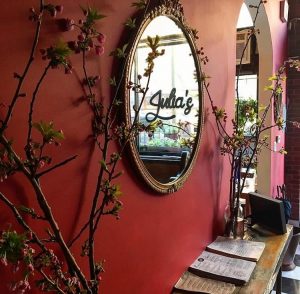 Walk in and feel the warmth and vitality.
Co-owned by Geneva Williams, a high-spirited singer, gardener, restauranteur and cocktail creator who looks for and finds art in everything. When possible she brings it back and adds it to her restaurant. Dining at Julia's is like dining with a work of art.
There is plenty of space for paintings and photographs by community artists, rotated on an ongoing basis. Geneva believes that restaurants are important, helping to define and give a community shape.  By letting local artists sell their work (including a mother-daughter jewelry duo) Geneva provides something valuable to the neighborhood, her drive is to "make connections and build relationships".
Some of her latest creative endeavors are in the realm of beverages – such as cocktails that are made with Mead (also known as honey-wine). Some say mead is the world's first alcoholic beverage, dating back thousands of years.   Geneva says that mead "has inspired me to try new things…it's opened up a lot of new ideas", like helping to make hip new cocktails without a liquor license, as she can only serve beer and wine and anything under 24% alcohol.
Her newest creation is called "Sweet Virginia". She pairs Mysto Mead (Rum Soaked Oak ) and Soju, a distilled rice wine from Korea, that is infused with strawberries, caramelized pineapples and lime. The rum, oak and honey-vanilla notes from the Mysto Mead make best pals with Soju and her fruity friends.  They can dance all night on your tongue.  Check it out.
There is also "El Corazon", combining Mysto Mead (Super Star Anise), Ginger-Infused Soju, with Blood Oranges and Lime juice.  The Star Anise and Honey and Pepper vibe from the Mysto Mead go out on another date with Soju, and they both have quite a time with Orange and Lime.  Divine.  Join them!
Geneva says "people are really taking an interest in the cocktails and the mead and want to know more about it…they are also ordering mead as a stand-alone drink", reflected in her menu, which now has a section devoted to it.
Julia's lunch and dinner menu reflect her creative approach based on traditional, high quality ingredients put together in new and sophisticated combinations.  For instance- here is one of her appetizers:
Fresh Corn and Scallion Cakes topped with Spicy Cider-Braised Morscher's Pork, Jalapeno Pesto, Crumbled Mozzarella and Micro Cilantro.
That's amazing!!  As for keeping it real – almost all of Julia's meat comes from Morscher's, a butcher that has been in the neighborhood for 100 years.  Literally.
Musicians, including Geneva's boyfriend Randall Runyon, have been known to set up in the corner of the dining room and play all night to a packed room.
I could go on but…if you want great cocktails, great food, great art… Stop by at your first opportunity.  Have a mead cocktail and check out all that good stuff comin' at you from all over the place.  At Julia's.