For our Elderberry and Rose Petal mead go here.
Basil Mint:   Made from summer wildflower honey with fresh basil & mint leaves in the fermenter.  The resulting aroma is remarkable.  On the palate you have a deep integration of all the flavors, with Basil and Mint both prominent, followed by light citrus notes, a subtle presence of honey and a long mineral finish.  Delicious, unique and refreshing.  A mead made for the table- it's great with a wide range of food.  Most vegetables, pasta, even red sauce, light meats and most fish.  This mead is quite dry but maintains an apparent sweetness.  It has a lovely cooling effect on a hot summer day.  Have it chilled or on ice in the summer, at cellar temp in the winter.  Mint has a long history of use for better digestion and alertness.  Basil, more than just a pretty face and a delicious taste, is used to reduce fatigue and sharpen the mind.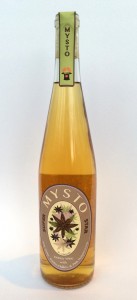 Super Star: With Star Anise, Pink Peppercorns, Ancho Chiles, Summer Wildflower Honey and our special yeast.  This mead has a dry, medium-bodied anise flavor, and received a 97 out of 100 rating at the 2016 Mazer Cup, the world's largest mead competition.  The peppercorn and chile contribute a mild complexity, while enriching Super Star's gorgeous amber color.  This mead has a lovely warming effect and is especially delicious in the winter.  Merchant empires grew large based on the trade of the irresistable pepper, for good reason.  Star Anise, famous from a long history of use as a flavoring agent, is also a stalwart fighter of colds and flu and will chase away winter from your comfort zone.
Delicious on ice in the summer.  Aperitif and Digestif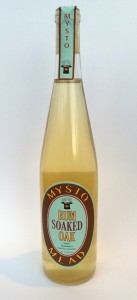 Rum Soaked Oak:   First Prize Winner at the 2016 Mead Free Or Die International Competition in the dry mead category.  This is mead that has been finished in Rum Soaked Oak barrels.  We make a classic or show mead first.  Just honey, water and yeast, fermented dry.  We allow this to age.  We then add it to an oak barrel whose previous use was for aging rum.  The mead absorbs the barrel's oaky rum flavor.  With light honey notes in the background this is a superb combination of flavors, rich in oaky tannins, with notes of vanilla and citrus.  Supplies are limited.  Jibe ho skipper and bury the rail!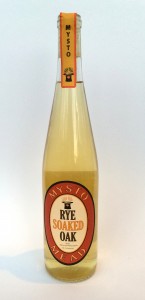 Rye Soaked Oak:   Dry Mead aged in Rye Soaked Oak Barrels.  "If a body catch a body comin' through the Rye."  Yet another poem about mead?  Maybe…the Scots were famous for their heather mead and all the good things it does for a body.  Here we take a show mead, and allow it to age. It then enters an oak barrel  previously used for the aging of rye whiskey, wherein the transformation to mead maturity occurs.  Delicious!  Rye, oak and mead were definitely made for each other.  The same oak, vanilla and citrus notes as the Rum Soaked Oak Mead but with the classic taste of rye front and center.  Add the lingering apparent sweetness from the honey with our classic mineral spring water finish.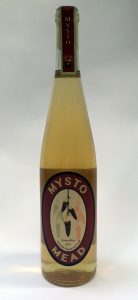 Chipotle-Cocoa  For the smoked pepper lover, this mead is for you.  Also for those yet to come under the smokey spell of the reknowned chipotle.  Chipotle peppers, cacao nibs and a touch of honey sweetness.  OMG.  Really smoky with just a touch of heat. Get it while supplies last.  A small batch, hand made masterpiece, aged now well over a year.

Bochet has arrived  Mead made with Carmelized Honey
With a rich ruby color this mead has notes of caramel and flan, with a delicate sweetness and a nice toasted flavor! Be careful with this one. Very limited quantities.
For our Elderberry and Rose Petal mead go here.
Classic Sparkling Mead. SOLD OUT.  more on the way
Just honey, water and yeast finished with oak and carbonated.  Very subtle and very refreshing.  Sure to be a hit.  Available at our farm markets.